Padel Miami: An Insider's Guide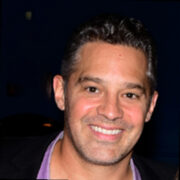 Reed Berglund
Reed Berglund is a passionate advocate for wellness and an…
From my days as a collegiate basketball player at UNLV to the tennis courts and now, my growing obsession with Padel Miami, I've always been captivated by the allure of sports. The adrenaline, the competition, the camaraderie – it's a feeling that's hard to replicate. And now, Miami, a city I've come to love, is undergoing its own sports revolution with Padel at the forefront. Let me take you through this incredible journey.
Miami never ceases to amaze. Those pristine beaches, the electrifying nightlife, and now, the Padel explosion. What is it about this sport that's captivating Miami? This sport has taken the city by storm and it's not hard to see why. With its fast-paced action, social aspect, and the epitome of luxury, Padel is quickly becoming a favorite pastime for many Miamians. Here's the inside scoop from someone who's been knee-deep in the world of Padel, both globally and right here in the U.S. From the key players in the game to the best clubs in town, we've got you covered. So grab your racket and let's dive into what makes Padel such an exciting addition to Miami's sports scene.
So What is Padel Exactly?
Imagine a sport that feels like a love child between Tennis and Squash, and you've got Padel.
Having played it myself, I can tell you it's an electrifying game. Played usually in doubles, the court feels intimate, a third of a tennis court's size, enclosed with metallic mesh and walls of clear glass. Unlike tennis, where strength and technique can dominate, Padel is an even playing field. Men, women, seasoned athletes, or youngsters – everyone is on equal footing here. It's not just about raw power but the strategy, the art of the game. Within my first 30 minutes on the Padel court, I felt the adrenaline, the strategy unfolding, and the sheer joy of the game.
Padel Miami: Equipment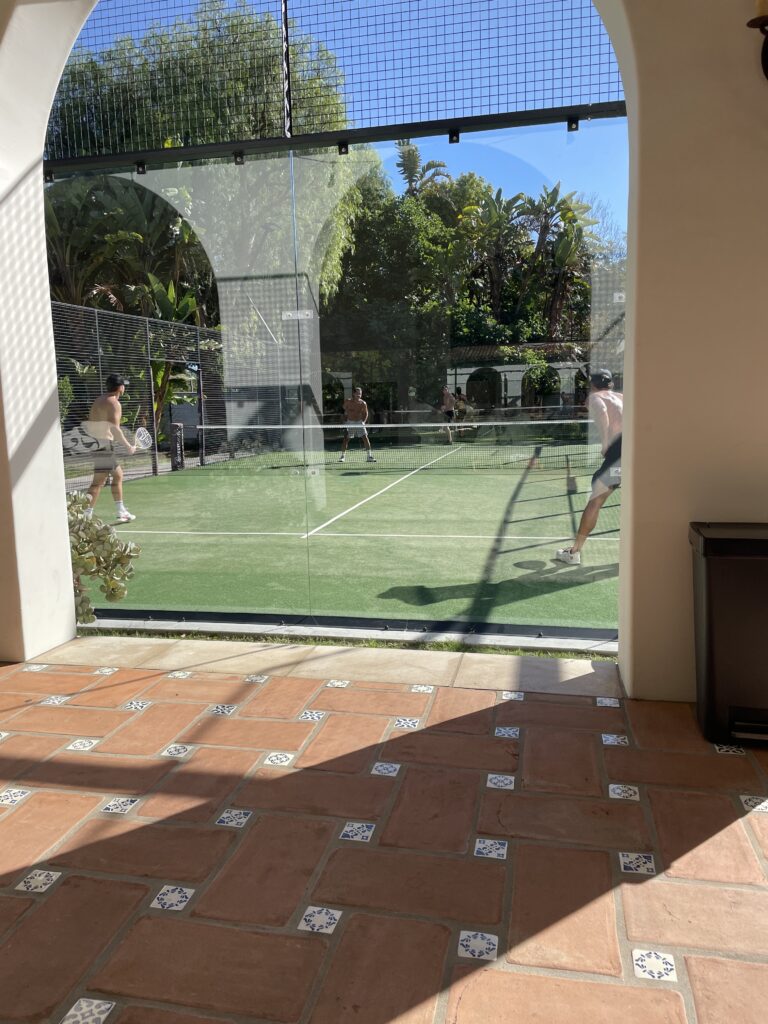 Now, let's talk gear. The Padel racquet feels compact, without strings, and is designed with an elastic surface peppered with holes. Paired with a low-compression tennis ball, it sets the stage for rapid rallies and tactical plays. And trust me, when that ball bounces off the glass wall, you realize this isn't just another racquet sport – it's a whole new ball game.
The court itself is a marvel. Stretching 20 meters in length and 10 meters across, it's enveloped by glass walls that extend 3 meters high, transitioning to a metallic mesh that adds another meter to the enclosure. A net slices the court in half, slightly elevated at the sides compared to the center. And then there's the service area, demarcated by a line three meters from the back wall.
Scoring in Padel took me back to my tennis days, with a familiar system but with a twist. The underarm serve, for instance, and the ability to play off the walls, much like in Squash, add an unpredictable, strategic element. Points aren't just about power – they're about out-thinking and out-maneuvering your opponent.
Why Miami is the U.S. Epicenter for Padel
Miami, with its azure beaches and sizzling nightlife, has now become synonymous with Padel. Why, you ask? Let's delve into the factors that have transformed this vibrant city into the U.S. Padel capital.
1. Pioneering Padel Players and Brands:
Wayne Boiche, alongside the Reserve Club, has been instrumental in introducing Padel to the U.S. These pioneers not only built private courts at their residences but also attracted global top-tier players to Miami. The magnetism of the sport in Miami is so strong that celebrities like David Beckham, Dwyane Wade, Jimmy Butler, and Taylor Fritz have taken lessons here. The venue also doubles as a nightlife hotspot with DJ sets and more. Boich's history with tennis and his exposure to Padel during his travels to France a decade ago fueled his passion.
2. The Cultural Connection:
Miami's diverse population, many of whom have Latin American or Spanish roots, play a significant role. Padel's origin traces back to Mexico in the 1960s. This means many Miamians were already acquainted with the sport upon their arrival. Moreover, the sport's prominence in Spain, where it stands second only to football, has further amplified its popularity in Miami.
3. Miami Padel Club's Stellar Contribution:
Miami Padel Club, representing South Florida in the inaugural Professional Padel League, has been a game-changer. The club's commitment to excellence is evident in their recent acquisition of Marta Marrero, a two-time WPT No. 1. Marrero's impressive credentials include 25 professional titles in Padel and reaching the French Open quarterfinals in tennis.
Davis Jamieson, the General Manager of Miami Padel Club, beams with pride, "Marta's acquisition demonstrates the trust of global players in our vision to be the best in the Pro Padel League (PPL) and their commitment to represent our community."
With only eight teams in the PPL, it's noteworthy that Miami is home to one of them, further solidifying its central position in the U.S. Padel scenario.
Padel Miami: Our Top List of Clubs
But how do you choose the best amongst the best? I, alongside my dedicated team, friends, and the broader Breathe Miami community, embarked on a mission. Over several months, we delved deep into the Padel Miami scene, experiencing firsthand the offerings of each club. From the eyes of a beginner to the needs of a seasoned player, we have seen it all. This list isn't just a guide; it's a culmination of diverse experiences, rigorous discussions, and invaluable feedback from our community. As you navigate through our top picks, remember – your insights are always a cherished addition to our ever-evolving guide.
1. Reserve Padel: The Crown Jewel
Our top pick, Reserve Padel, stands as a testament to luxury and excellence in the world of Padel. The club's state-of-the-art facilities combined with a team of professional coaches ensure players have a top-tier experience. What makes it stand out? Well, imagine playing against the backdrop of the mesmerizing Biscayne Bay in a stadium-like setting! The adrenaline rush is unmatched. Wayne, the visionary behind Reserve Padel, has fostered a welcoming culture. Regardless of your skill level, you'll be greeted with open arms. A personal touch I adore is the cold plunge before and after matches, a feature unique to Reserve. To top it off, having Pura Vida, one of Miami's finest restaurants on-site, adds a dash of elegance and nutrition.
Location: Miami Seaplane Base, 1000 MacArthur Cswy, Miami, FL 33132, United States
Update: New Location in North Miami
In the dynamic North Miami community of SoLé Mia, a master-planned haven developed by LeFrak and Turnberry, Reserve Padel is set to open a stunning new club in fall 2024. Tthis expansion is a testament to their unmatched pace and commitment to excellence. The two-story Reserve Padel at SoLé Mia will boast an impressive array of facilities, including ten padel courts (indoor and outdoor), two pickleball courts, and a top-tier wellness center complete with a gym, cold plunge, steam room, and sauna. The inclusion of the Pura Vida restaurant continues to add a touch of culinary finesse, enhancing the overall experience. Their rapid yet thoughtful expansion, prioritizing quality at every step, sets a benchmark that others are striving to match.
2. Ultra Padel: Excellence Personified
Coming in a close second is Ultra Padel. This club is a haven for Padel aficionados, with a plethora of courts, including three doubles and a unique indoor singles court – a respite from Miami's scorching heat. Claudia, the dynamic owner, is the driving force behind Ultra Padel. Her dedication shines through in the seamless experience she offers, from setting up lessons to orchestrating corporate events. The club's commitment to a rating system ensures well-matched, thrilling games.
Location: 6301 NE 4th Ave, Miami, FL 33138, United States
3. Wynwood Padel Club: The Heart of the City
Wynwood Padel Club offers an exquisite blend of sport and culture. Situated in the heart of Wynwood, the club is a perfect convergence of top-notch Padel and the city's pulsating vibe. With eight outdoor courts and an enthusiastic staff, the club promises an experience that's both invigorating and enriching.
Location: 1932 NW Miami Ct, Miami, FL 33136, United States
4. Real Padel Miami: The Padel Pioneer
Last but certainly not least, Real Padel Miami is one of the city's original Padel hubs. Located in the trendy Wynwood area, it offers top-tier facilities and coaching. Though it might not boast as many amenities as its counterparts, its legacy and dedicated community make it a must-visit.
Location: 1739 NE 2nd Ave, Miami, FL 33132, United States
Is Miami the Future of Padel in the U.S.?
Miami's transformation during the pandemic was nothing short of meteoric. This sun-soaked paradise, already a magnet for luxury and opulence, found a new allure in the form of Padel, further enticing the crests of society. With the city housing some of the nation's foremost padel innovators, it's no stretch to claim that Miami might just be charting the course for the sport's future in the U.S.
Yet, it's not an unchallenged reign. New York, with its rapidly burgeoning Padel scene, is emerging as a formidable contender. In fact, Reserve Padel, a Miami favorite, has recently expanded its footprint with a stellar facility at Hudson Yards in Manhattan. There's also buzz that Reserve Padel is setting sights on the West Coast, with Los Angeles potentially being the next city on their expansion radar.
Brands, both established and new entrants, are recognizing the sport's potential, and gearing up for expansion across the nation. While Los Angeles has been somewhat slower in embracing the Padel renaissance, the potential entry of renowned brands like Reserve Padel could be the catalyst it needs.
Miami's ascent as a preferred padel hub, drawing players from every corner of the country, underscores its pivotal role in shaping the sport's trajectory in the U.S. Armed with premier venues like Ultra Padel and a sports ecosystem that thrives on passion and innovation, Miami stands on the brink of elevating padel from a niche delight to a national sensation.
Come Join Us
As the sun sets on our exploration of Miami's vibrant padel scene, there's an exciting horizon beckoning at Breathe Media. We've always believed in the beauty of community, and to further that spirit, we're launching monthly padel clinics. If you've ever been intrigued by the sport or simply want to refine your skills, this is your golden ticket. Members of our community, whether beginners or seasoned players are welcome to dive into the exhilarating world of padel with us. Interested? Sign up here.
But that's not all. We're fusing the adrenaline of padel with the thrill of romance in our brand new show, "Love and Padel". Imagine the heart-racing excitement of speed dating but on a padel court! It promises a blend of sportsmanship, laughter, and perhaps, the chance of love. For sneak peeks, updates, and more on this and our other ventures, follow us on Instagram at @breathe.miami
It's a thrilling time to be part of the Padel wave, and I, personally, can't wait to share the court, the laughter, and the stories with you. See you out there!
---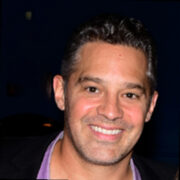 Reed Berglund
Reed Berglund is a passionate advocate for wellness and an embodiment of the active lifestyle. As a former college athlete who played basketball for the UNLV Running Rebels, he's lived a life deeply immersed in body movement and sports. Reed's enthusiasm for staying active extends far beyond the basketball court. He's an avid surfer, wakeboarder, skier, basketball and tennis enthusiast, and an emerging padel player. His love for holistic well-being also includes a dedication to cold plunges and contrast therapy, embracing these practices to optimize recovery and vitality. In his role as the founder of Breathe, Reed brings his extensive experience in wellness and his unwavering commitment to helping individuals discover their path to a healthier, more mindful life. His personal journey and multifaceted fitness background inspire his vision for Breathe as a platform that empowers urban dwellers to explore, experience, and embrace well-being in all its forms. Reed's current focus lies in the realm of flexibility, a key component in his fitness journey to extend the longevity of his active lifestyle. Through Breathe, he aims to share his passion, knowledge, and insights with a vibrant community of wellness enthusiasts, experts, and storytellers, collectively working toward a healthier and happier world.