The 7 Best Outdoor Workout Spots in Miami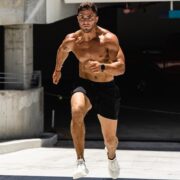 Tanner Kain
Tanner Kain, a highly accomplished fitness professional with a Master's…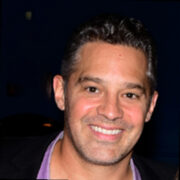 Reed Berglund
Reed Berglund is a passionate advocate for wellness and an…
We bet you're spending way too much time indoors, which is why we sat down with Tanner Kain to come up with the top best outdoor workout spots in Miami. Trading your comfy AC for a few laps around your local park might help you torch an extra half-hour of calories.
The weather forecast for this month? Hot and humid – typical Miami. But let's not make excuses. Here is our list of Miami's top 10 outdoor workout spots. Tanner, with his wealth of fitness knowledge and experience, lent his expertise to help curate this list. (A word of caution: exercising in high temperatures can be risky business. Avoid the scorching midday sun from 12 pm to 2 pm, and make sure to stay well-hydrated with plenty of fluids. Oh, and don't forget your sunscreen – you're going to need lots of it!
At the very top of our list is Muscle Beach, an iconic fitness destination located right on Miami Beach. What makes Muscle Beach the standout choice for outdoor workouts in Miami? It's a winning combination of its unbeatable location next to the ocean and the versatile array of equipment available amidst the sandy shores.
When it comes to outdoor workouts, Muscle Beach has it all. The best part? It's all completely free. From Olympic bars, dumbbells, kettlebells, racks, benches, to pull-up bars and slam balls, you'll find everything you need to create an exceptional workout routine that caters to your fitness goals.
Leopard Tree and MyBeast by MyEquilibria: A Revolutionary Fitness Experience
Experience a groundbreaking fitness revolution with the installation of Leopard Tree and MyBeast by MyEquilibria. These cutting-edge structures offer more than 30 workout components, making them the first of their kind in a public park in the United States. This high-end fitness equipment not only serves as a fitness haven but also seamlessly blends art and functionality at the beach, welcoming both visitors and residents to enjoy its benefits.
With the sandy beach as your workout backdrop, Muscle Beach is the ideal place for crafting an exhilarating circuit workout or engaging in a heart-pounding Plyometrics routine. The combination of equipment and sand offers a unique and challenging workout environment that's hard to match elsewhere.
And here's a special touch that makes Muscle Beach even more extraordinary: the ability to pre-workout or post-workout, take a moment on the beach and listen to the waves crash. It's a chance to set your intention, clear your mind, and reflect on your journey towards a healthier you. The beach provides a serene space for gratitude and mindfulness, adding a holistic dimension to your fitness routine.
As you break a sweat amidst this dynamic setting and then pause for a moment of reflection, you'll find that Muscle Beach isn't just a workout; it's an experience that embodies the essence of fitness, wellness, and mindfulness in Miami.
Location: 873 Ocean Dr, Miami Beach, FL 33139.
Website: https://www.miamibeachfl.gov/
Best known for:
Olympic bars
Kettle bells
Racks
Calisthenic Park
Tires for flipping
Free of cost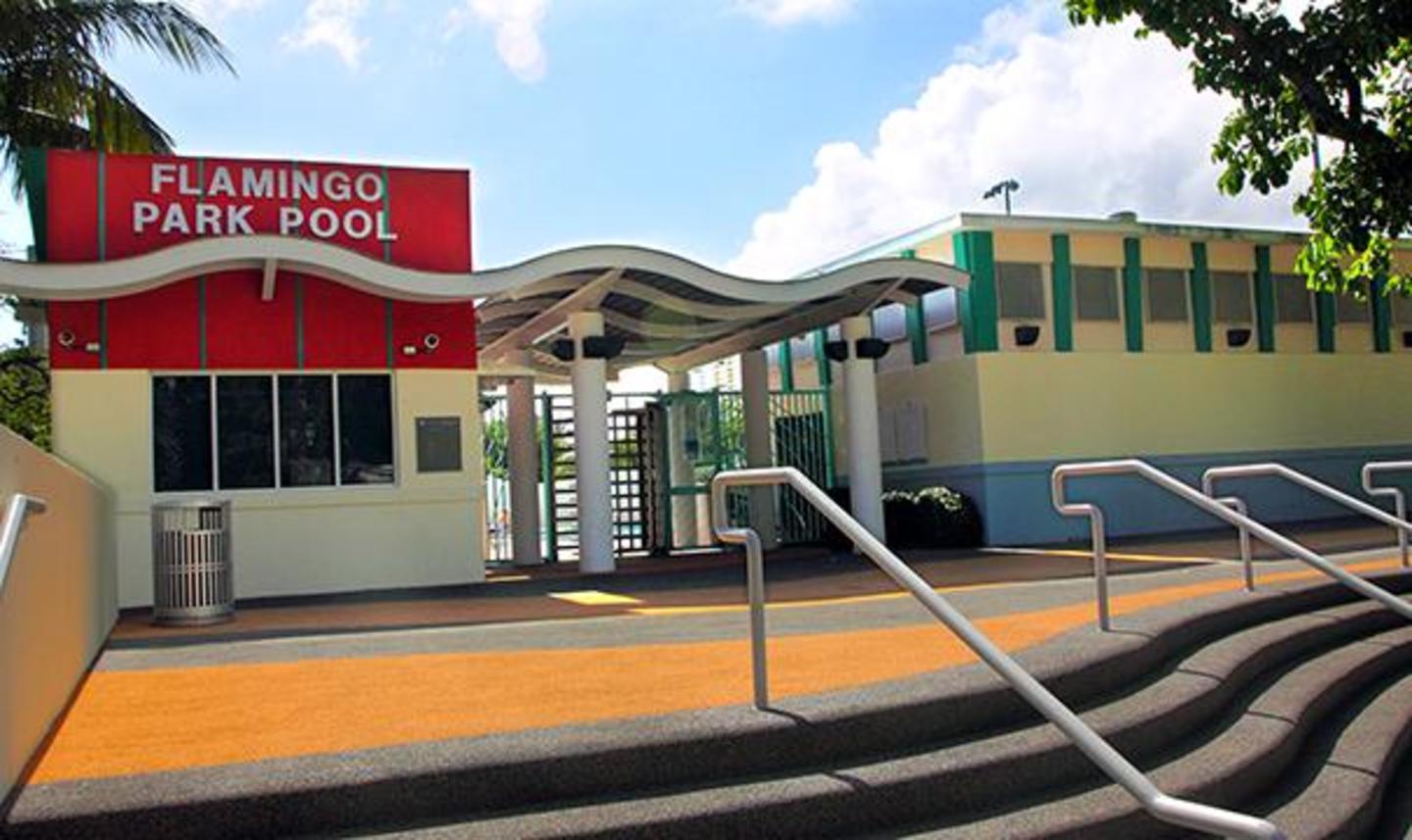 Our second pick, Flamingo Park, nestled in the heart of South Beach, stands as a true haven for fitness enthusiasts and families alike. What sets Flamingo Park apart is its immense scale and the wide variety of facilities it offers, making it a one-stop destination for just about everyone seeking outdoor activities.
This expansive park boasts a staggering 17 tennis courts, handball and racquetball courts, a baseball stadium, softball field, football field, basketball court, soccer field, running track, playground, walking trails, and even a dedicated bark park for your furry friends. All of this is beautifully surrounded by lush tropical plants, providing a refreshing and vibrant atmosphere.
For those looking to make a splash, Flamingo Park houses a modern aquatic facility complete with two pool areas. The eight-lap swimming pool maintains a comfortable temperature year-round, ensuring you can enjoy a refreshing swim at any time. Additionally, you'll find lockers, lounge chairs, and showers available for your convenience. Families with children will appreciate the outdoor water playground, perfect for some aquatic fun in the sun.
But what truly makes Flamingo Park a standout is its versatility. It can serve the needs of just about everyone. Whether you're into sport-specific training or aiming to improve your speed and agility, this park has you covered. Feel free to bring along agility hurdles, an agility ladder, cones, resistance bands, or even a running parachute to elevate your workout.
Location: 999 11th St, Miami Beach, FL 33139, United States
Website: https://www.miamibeachfl.gov/city-hall/parks-and-recreation/parks-facilities-directory/facility-info-flamingo-park/
Best known for:
Aquatic Center
Bark Park
Baseball Stadium
Tennis Center
Ranked at number three on our list, Margaret Pace Park is a hidden treasure nestled next to the tranquil Biscayne Bay, just north of Downtown Miami. Named in honor of one of Miami's most influential preservationists, this park offers something truly special – breathtaking waterfront vistas of the Venetian Islands and the iconic Miami Beach skyline.
What sets Margaret Pace Park apart and secures its spot on our list is its unparalleled views. The whole circumference of the park is just shy of 1k, making it a little short but still a haven for runners. Imagine embarking on a 5k run and being treated to spectacular sights, with lush trees and the serene bay accompanying every stride.
In Margaret Pace Park you'll probably see runners stretching after an evening run, as well as informal pick-up games on the park's basketball, tennis, and volleyball facilities. It's a family-friendly outdoor location with a playground and plenty of green space. It's also a wonderful area for people to watch and take in the natural beauty while eating on a park bench or at a picnic table, especially since the popular local sandwich store Daily Creative is located right around the corner.
Every Thursday at 6:30 PM, Hi Vibe Wellness invites over fifty Miami locals to join in for a sunset yoga flow. Led by Lucy Nelles, a Miami-based certified yoga instructor and the founder of Hi Vibe Wellness, this soothing, all-levels vinyasa-style yoga flow is designed to stretch, lengthen, and relax both body and mind. It's an opportunity to unwind, bask in the sunset's glow, and forge new connections within a beautiful community.
Location: 1745 N Bayshore Dr, Miami, FL 33132, United States
Website: https://www.miami.gov/Parks-Public-Places/Parks-Directory/Margaret-Pace-Park
Best known for:
Outdoor Gym Equipment
Walking Trails
Waterfront
Bike Racks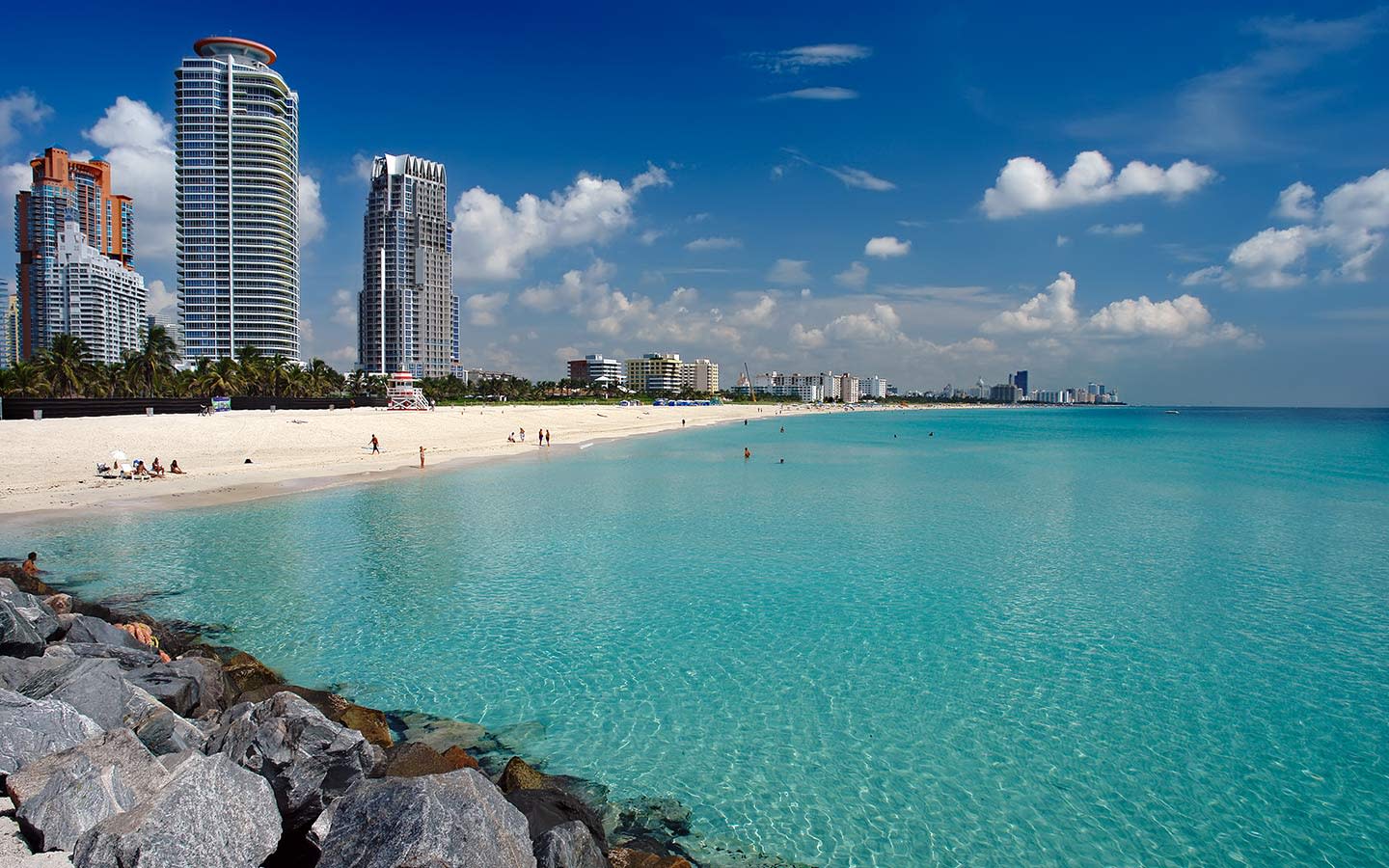 Coming in at number four on our list is South Pointe Park, a place where breathtaking views of the ocean and cool ocean breezes combine to create the perfect backdrop for your workout. Here, you'll not only enhance your fitness but also have the chance to join combined workout and yoga sessions, providing an opportunity to connect with new people and make pleasant acquaintances.
Begin your workout at South Pointe Park with an exhilarating run that takes you from the iconic lighthouse to the end of the pier and back to the hills. This run isn't just about exercise; it's an immersive experience that showcases the beauty of Miami's coastline.
As you set off from the lighthouse, you'll immediately be captivated by the stunning views. You can see boats gracefully making their way in from the vast Atlantic Ocean, heading toward Key Biscayne through Government Cut.
What truly sets South Pointe Park apart is its blend of views, broken into three captivating sections:
1. South Pointe Park Lighthouse: The iconic lighthouse offers a stunning focal point and a symbol of this picturesque park. It's an ideal starting point for an incredible run that stretches from the lighthouse to the end of the pier and back to the hills.
2. The Hills at South Pointe Park: These elevated vantage points offer panoramic vistas of the ocean and Miami's glamorous skyline. Running or exercising here is not just a physical experience but a visual treat that adds a unique dimension to your fitness routine.
3. South Pointe Pier: The pier extends out into the Atlantic, and from here, you can witness gigantic cruise ships making their way into the Port of Miami via Government Cut. This manmade shipping channel has transformed the area, providing easier access to the Port of Miami. The sight of these colossal vessels is a sight to behold and adds a touch of grandeur to your workout.
After the workout, you can also visit the beautiful park, which is packed with BBQ and picnic spots, exciting trails for walking, views of the glamorous Miami skyline, the South Pointe café, the scrumptious Smith and Wollensky Steakhouse, and the South Pointe pier where you can enjoy fishing and various kinds of water sports as well. Miami-Dade County Parks and Recreation Department manages everything very efficiently in order to provide scenes of luxury, inspiring, and gigantic cruise ships coming to the port.
Well, if you're having your workout but your furry friend is not able to have it, then in this park, you will also find a bark park to cater to the needs of your dog's fitness levels.
Location: 1 Washington Ave, Miami Beach, FL 33139.
Website: https://www.miamiandbeaches.com/neighborhoods/south-beach
Best known for:
Scenic views
Dog-friendly
Variety of cafes
Free of cost
Ranked at number five on our list, Brickell Key Park offers a peaceful escape on this densely populated island. This small but charming park, situated at Brickell Key's southernmost point, provides visitors with a serene coastal setting adorned with swaying palms and magnificent water views.
A Perfect Spot for a Bodyweight Tabata Circuit
For those looking to diversify their fitness routine, Brickell Key Park offers an ideal location for a bodyweight Tabata circuit. Say goodbye to running and embrace bodyweight exercises, following the challenging Tabata protocol.
Here's how it works: Select a bodyweight exercise and perform it vigorously for 20 seconds, followed by a brief 10-second rest. During those 20 seconds, push yourself to the limit, and then recover during the short 10-second break. Repeat this cycle for a maximum of 8 sets. In just four minutes, you'll be amazed at how intense and effective this workout can be, thanks to the electrifyingly fast work intervals punctuated by those short 10-second rests.
You have the flexibility to choose from a wide range of bodyweight moves for your Tabata circuit. Consider incorporating exercises like burpees, squats, and mountain climbers. If you're unsure about the proper form for any of these exercises, you can easily find instructional videos online to guide you.
Additionally, if you'd like to extend your workout beyond the park, there's a scenic route waiting for you. From the Rickenbacker Causeway, it's roughly 2.5 miles through the Brickell area. You'll find a decent sidewalk along RT. 1, and then follow Brickell Bay Dr., which includes a couple of lovely waterfront sections, until you reach Brickell Key Dr. From there, you can complete a satisfying ~1-mile loop around Brickell Key.
For those seeking a more structured fitness experience, consider attending the yoga class held at Brickell Key Park. This class offers a total mind-body workout, combining strengthening and stretching poses with deep breathing and meditation. It's open to all levels of yoga practitioners and takes place every Friday at 8:00 am. The closest parking is available at 635 Brickell Key Drive.
Location: Brickell Key Dr, Miami, FL 33131, United States
Website: https://brickell.com/best-parks-in-brickell/
Best known for:
Tranquil Oasis
Waterfront Space
Yoga
Jogging Trail
6. David T. Kennedy Park – Your Oasis for Outdoor Fitness in Coconut Grove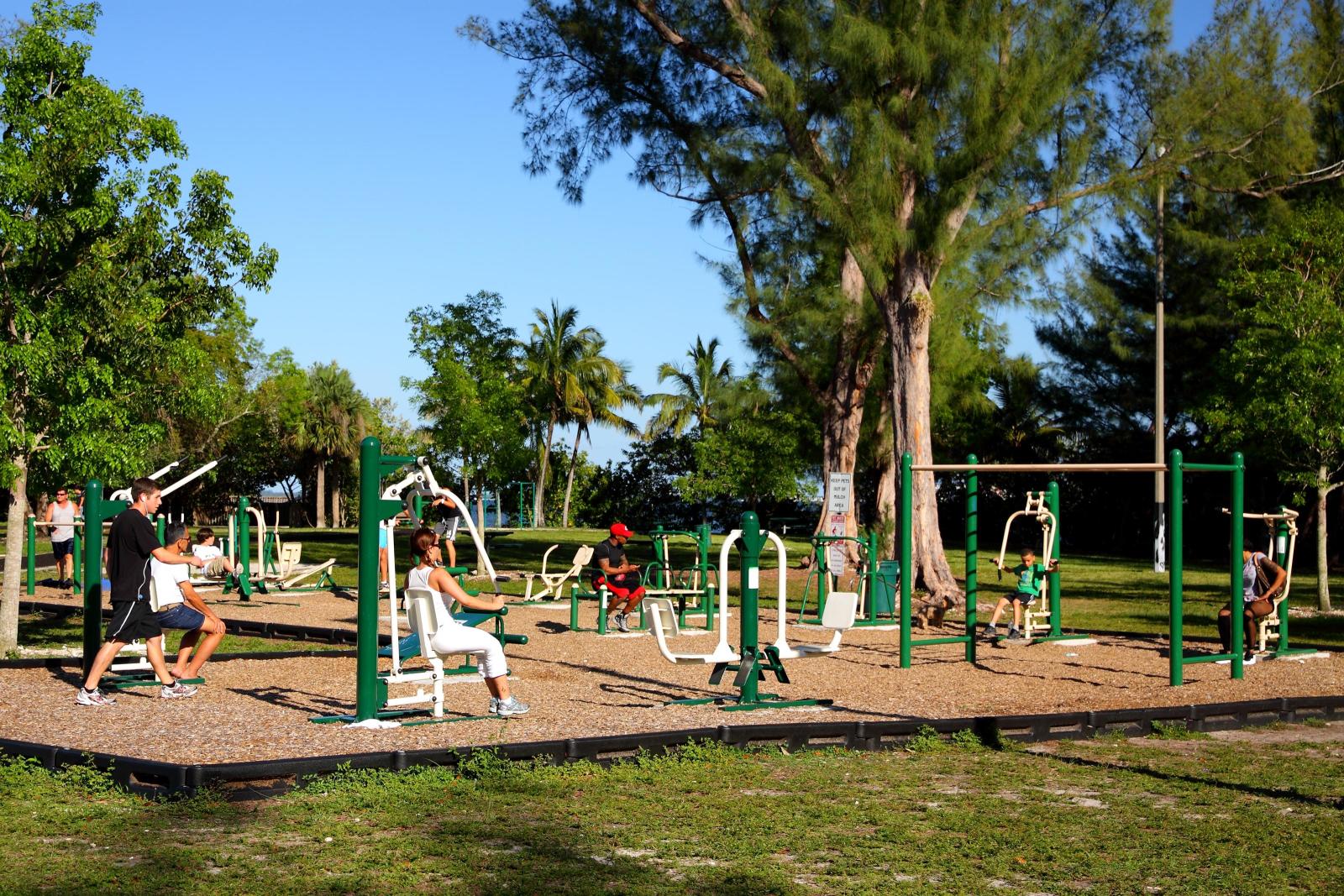 Ranked at number six on our list is David T. Kennedy Park, a prime spot nestled in the heart of Coconut Grove. This sprawling park, spanning over 20 acres of bayfront green space, offers a paradise for fitness enthusiasts and those seeking an array of outdoor activities.
For those looking to stay active, the park boasts low-impact rubber asphalt running paths, various calisthenic exercise stations, and a spacious outdoor gym area with resistance-based equipment. It's the perfect place to break a sweat and enjoy a full-body workout while taking in the picturesque surroundings.
In addition to its fitness amenities, the park features a grassy area with a dedicated walking and jogging path, complete with exercise stations strategically placed for a well-rounded workout during your jog. Cyclists can also enjoy a dedicated biking trail, while multiple sand volleyball areas offer the perfect setting for a friendly game with friends.
After an invigorating workout and a day filled with activities, don't miss the chance to savor the legendary iced lemonade available at A.C.'s, a beloved establishment in the area since 1978. It's the perfect way to indulge and cool down, knowing that you've earned every sip.
Location: 2400 S Bayshore Dr, Miami, FL 33133
Website: https://www.miamigov.com/Parks-Public-Places/Parks-Directory/David-T.-Kennedy-Park
Best known for:
Low impact rubber asphalt
The iconic A.C.'s Lemonade
Jogging Trails
7. Regatta Park – Where Fitness Meets the Bay
Nestled alongside Biscayne Bay in the historic Coconut Grove neighborhood, Regatta Park is a picturesque waterfront oasis named after the vibrant sailing regattas that often adorn the horizon. For those who appreciate the maritime scene—where sailboat masts dance in the breeze and the turquoise bay glistens in the sunlight—this breezy waterfront park is a true gem.
But Regatta Park offers more than just stunning views; it's also home to a revolutionary fitness community. Anatomy, a trailblazing fitness concept that seamlessly integrates exercise programming with wellness and beauty, has opened its fourth location in South Florida at Regatta Harbour, a development adjacent to the park.
Eduardo Garcia, principal of The TREO Group, the driving force behind Regatta Harbour, shares his excitement: "The opening of our first tenant, Anatomy, signifies a major milestone for Regatta Harbour. What was once a vision to activate the neighborhood's waterfront is now an experiential gathering place that can be enjoyed by all."
Anatomy founder and co-owner, Marc Megna, is equally thrilled about the new location: "At Anatomy, we're all about elevating our member's experience, and we couldn't be more excited to expand our offerings and bring what we consider to be the future of fitness to Regatta Harbour. We can't wait to welcome the Coconut Grove community into the Anatomy family, while simultaneously molding our personalized Anatomy fitness experience into the neighborhood."
Regatta Harbour, designed by Arquitectonica, is set to transform Coconut Grove's bayfront with over 100,000 square feet of entertainment, curated retail, and chef-driven restaurants, slated for completion in 2022. This "Play by the Bay" destination will seamlessly connect with Regatta Park, making it a vibrant hub for residents and visitors alike.
For those looking to stay active in this scenic setting, here's a workout circuit to try:
Workout Circuit (4-6 Times):
Bodyweight Squats x 10
Press-ups x 10
Alternate Lunges x 10 each side
Shoulder Taps x 8 each side
Mountain Climbers x 10 each side
Half Burpees x 8
Section B (Cardio Finisher): For a cardio blast, repeat the following as many times as you can within 20 minutes:
Sprint 50m
Jog 50m
After every 4 lengths (2 sprints, 2 jogs), take a 30-second rest.
Regatta Park and Regatta Harbour are not just about fitness; they're a dynamic fusion of fitness, entertainment, and community, creating a unique experience that enriches Coconut Grove's vibrant culture.
Location: 3500 Pan American Dr, Miami, FL 33133, United States
Website: https://www.miami.gov/Parks-Public-Places/Parks-Directory/Regatta-Park
Best known for:
Anatomy Fitness
Regatta Harbour
Waterfront Views

Conclusion – Embark on Your Wellness Journey with Us
As we wrap up our exploration of Miami's top outdoor workout, we want to extend an invitation to all fitness enthusiasts and seekers of wellness. We are thrilled to inspire and guide individuals on their wellness journey by connecting them with unique and rejuvenating experiences in Miami. Whether you're looking for outdoor workout spots, wellness events, or insider tips on staying healthy in the Magic City, we've got you covered.
Join us for city guides with Tanner and exciting events featuring special guests like Victoria Posner, where you can immerse yourself in the world of wellness, connect with like-minded individuals, and elevate your holistic lifestyle.
Your wellness journey is about to get even more exciting, and we can't wait to share it with you. Keep an eye out for our upcoming guides and events, and let's embark on this transformative journey together. Here's to a healthier, happier you!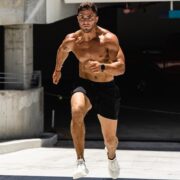 Tanner Kain
Tanner Kain, a highly accomplished fitness professional with a Master's in Public Health and a Bachelor's in Kinesiology, brings a wealth of knowledge and experience to Breathe Miami. As a former college football player and leader at Anatomy, one Miami's top gyms, Tanner understands that true strength lies in resilience and the ability to persevere through challenges. With his expertise and passion for promoting wellness, Tanner is dedicated to helping individuals embrace a holistic approach to fitness and live their best, healthiest lives.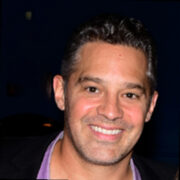 Reed Berglund
Reed Berglund is a passionate advocate for wellness and an embodiment of the active lifestyle. As a former college athlete who played basketball for the UNLV Running Rebels, he's lived a life deeply immersed in body movement and sports. Reed's enthusiasm for staying active extends far beyond the basketball court. He's an avid surfer, wakeboarder, skier, basketball and tennis enthusiast, and an emerging padel player. His love for holistic well-being also includes a dedication to cold plunges and contrast therapy, embracing these practices to optimize recovery and vitality. In his role as the founder of Breathe, Reed brings his extensive experience in wellness and his unwavering commitment to helping individuals discover their path to a healthier, more mindful life. His personal journey and multifaceted fitness background inspire his vision for Breathe as a platform that empowers urban dwellers to explore, experience, and embrace well-being in all its forms. Reed's current focus lies in the realm of flexibility, a key component in his fitness journey to extend the longevity of his active lifestyle. Through Breathe, he aims to share his passion, knowledge, and insights with a vibrant community of wellness enthusiasts, experts, and storytellers, collectively working toward a healthier and happier world.