Soul Move: The Workout for Your Spirit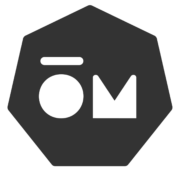 When
October 5, 2023    
7:30 pm - 9:30 pm
Soul Move: A dynamic workout class in Miami that merges a live podcast, breathwork, and a Latin twist on Qi Gong—an invigorating creation by Paula Landrón. Experience an uplifted spirit and inner empowerment.
⭐️ About Paula: With a decade of experience as a certified Fitness Instructor and Breathwork Facilitator, Paula Landrón brings Soul Move to life in Miami, Puerto Rico, and Prague. Featured in the Wall St. Journal, she co-founded Puerto Rico's first fitness festival and hosts the Feel Radiant Podcast, empowering listeners through storytelling and wellness interviews. Paula is a public speaker, leading corporate wellness programs to reduce workplace stress and anxiety. Fluent in Spanish, Portuguese, and French, she holds a Bachelor's degree in Psychology from the University of Miami. Explore Paula's work at paulalandron.com and @paulalandron on Instagram.
🏡 Location: Join us at the Modern ŌM Bungalow, the heart of Miami's mindful community, located at 5020 NE 2nd Ave, Miami, FL 33137.
🚙 Parking: Find metered parking on NE 2nd Avenue and NE 50th Terrace. Avoid residential zones to prevent towing.
✅ What to Bring: Come prepared with a yoga mat, comfortable attire, a refillable water bottle, and an open heart.
🎟 Tickets: Secure your spot with Early Bird or General Admission tickets.
🧘🏽‍♂️ Exclusive Member Benefits: Discover special rates when you explore our membership plans.
Experience Soul Move—a unique fusion of fitness and mindfulness.
🧘🏽‍♂️ Exclusive Rates for Members: Explore the benefits and join a plan for incredible savings:
Save 10% on this session with the ŌMIE PLAN ($49 per year)
This session is included with the PRACTICE PLAN ($99 per month)
This session is included with the ACCESS PLAN ($199 per month)
✈️ Mindful Miles™️: Earn Mindful Miles (MM) for your spiritual practice and enjoy rewards:
Receive a reward for every 10MM you earn
Upgrade your MM status with valuable perks when you accumulate 25MM
💻 Online Resources: If you can't attend in person, we have online resources available:
Modern Medi Club: A donation-based online meditation studio with daily classes at 8am, 10am, and 8pm. Joining this online studio is FREE and separate from Miami plans.
Cushion Crawl On Demand: Access 500 videos recorded by 120+ world-class facilitators over three years. This Content Library is included with all Miami plans.
📲 Stay Connected: Follow us on Eventbrite, Instagram, TikTok, and join our Miami Telegram channel for updates and inspiration.
ABOUT MODERN ŌM:
Since 2016, Modern ŌM has been connecting communities to world-class spiritual wellness programs. We offer over 30 Miami events every month, retreats, training, and online meditations through the Modern Medi Club, along with branded merchandise.
Think of us as your go-to resource for spiritual wellness. We support a growing community of entrepreneurs, professionals, and creatives who prioritize their spiritual well-being, both in Miami and beyond.
COMMUNITY PRAISE:
"I adore the community and the incredible vibes at Modern ŌM!!" – Seema
"I wholeheartedly recommend this membership – you won't regret it!" – Nadine
"It's evident that Modern ŌM truly cares about its community and the conscious growth of its members. Thank you!" – Alessandra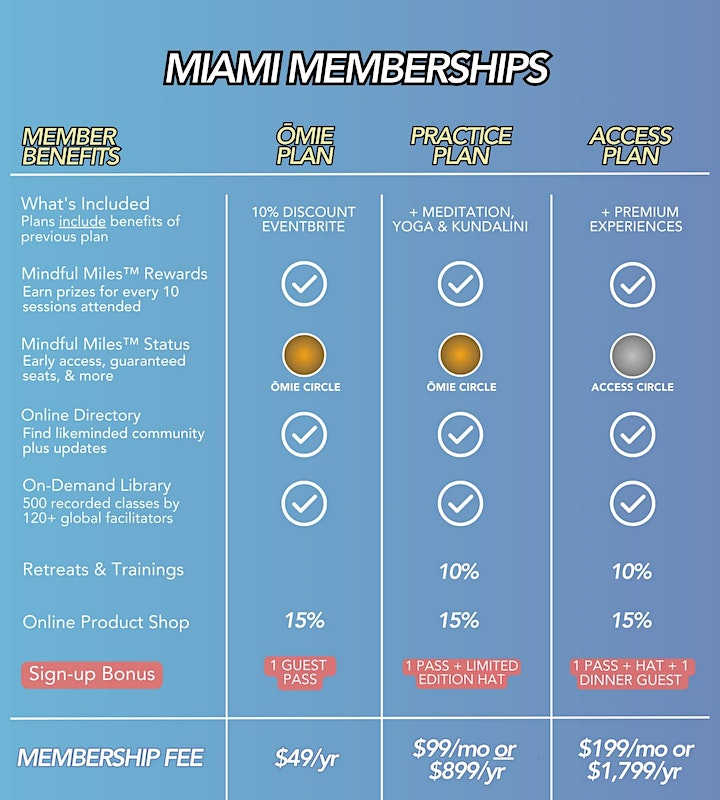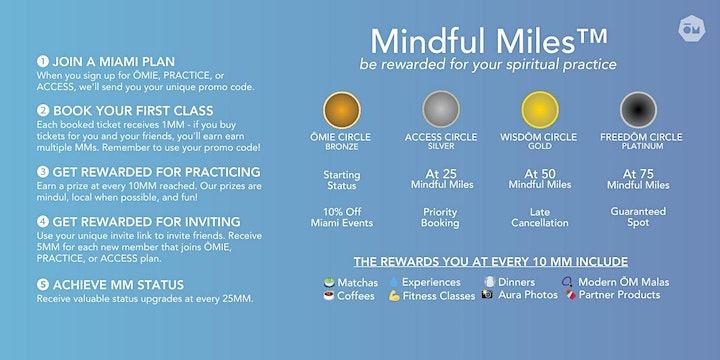 Discover more exciting and best October events in Miami