Conscious Trance™ with Bre Jenkins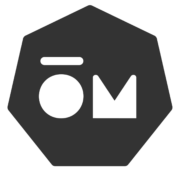 When
November 10, 2023    
7:30 pm - 9:30 pm
"Embark on a transformative journey into a lucid dream-like state of awareness, guided by Bre Jenkins, an Energy Healer and Psychedelic Guide.
In this immersive session, participants will access a trance state that harmonizes with our natural circadian rhythm by oscillating between electricity and magnetism. Utilizing polyphonic sound and live instruments, the experience aims to activate specific brainwave patterns, inducing a state of lucid consciousness resembling a waking dream.
The concept of the Conscious Trance™, originally brought to light by Pi Villaraza in 2010, draws from Indigenous practices that have explored similar states for centuries. These practices are often associated with shamanic trance, involving techniques like chanting and drumming. The foundations of this practice are rooted in a diverse range of influences, including Hermeticism, Indigenous traditions, Hinduism, Quantum Physics, Neuroscience, Psychology, and more.
The session is designed to unlock your body's innate self-healing abilities, offering an intuitive and organic expansion of consciousness. It serves as a gateway to wholeness and a deeper understanding of one's self. While the experience may lead to spontaneous movements, it's important to note that these physical manifestations are an outcome rather than the primary objective.
Who: Bre Jenkins
With nearly a decade of experience in the wellness field, Certified Health Coach Bre Jenkins embarked on a quest for deeper understanding. She transitioned her focus to energy healing and psychedelic medicine, facilitating profound healing and personal expansion through enhanced awareness of the mind and body. Bre specializes in ancient energy techniques that can induce out-of-body experiences by activating the energetic and central nervous system.
Her extensive qualifications include certifications in Reiki levels 1, 2, & 3, Inner Dance, Psychedelic Integration, and more. Bre's work has gained recognition in major publications such as Spirit & Flesh magazine and The Alchemist's Kitchen. She also plays a significant role in the psychedelics field, contributing to renowned platforms like Doubleblind Magazine, The Ancestor Project, Field Trip Health, and Third Wave Psychedelics. Bre's approach is rooted in personal experience and professional training, offering collective resonance and a humanized perspective on spirituality.
Parking:
Metered parking is available along the streets of Upper Buena Vista on NE 2nd Avenue and NE 50th Terrace. Please refrain from parking in residential zones, as towing is enforced.
What to Bring:
Participants are encouraged to bring a yoga mat, wear comfortable clothing, carry a refillable water bottle, and approach the session with an open heart.
Tickets:
Choose from Early Bird or General Admission ticket options.
Exclusive Rates for Members:
Explore membership plans for special rates.
ŌMIE PLAN ($49 per year) – 10% off this session
PRACTICE PLAN ($99 per month) – 10% off this session
ACCESS PLAN ($199 per month) – Included in this session
Mindful Miles™️:
This session is worth ❶ Mindful Mile (MM), offering rewards for your spiritual practice. All members are automatically enrolled in our 'frequent flier' program for Miami events. Earning 10MM grants you a reward to celebrate your practice, and accumulating 25MM provides a status upgrade with valuable perks.
Online Resources:
For those unable to attend in person, we offer online resources, including the Modern Medi Club, a donation-based online meditation studio with daily classes at 8am, 10am, and 8pm. Additionally, Cushion Crawl On Demand provides access to a library of 500 videos recorded by 120+ world-class facilitators.
Stay Connected:
Follow us on Instagram, TikTok, and join our Miami Telegram channel for updates.
About Modern ŌM:
Since 2016, Modern ŌM has been a bridge to world-class spiritual wellness programs, offering over 30 monthly Miami events, retreats, trainings, online meditations through the Modern Medi Club, and branded merchandise. We serve as your resource for spiritual wellness, supporting an ever-evolving community of entrepreneurs, professionals, and creatives who prioritize their spiritual well-being. Join us in Miami and beyond.
About Modern ŌM Membership:
The Modern ŌM membership is a global community curated for entrepreneurs, professionals, and creatives who value their spiritual well-being. Whether you're in Miami or online, you'll find opportunities to engage in group practices, workshops, experiences, trainings, and more. Connect with like-minded individuals on a shared spiritual journey, learn from world-class facilitators spanning various lineages and modalities, and enjoy social gatherings within our conscious community.
Community Praise:
"I love the community, I love the vibe of Modern ŌM!!" – Seema "I highly recommend this membership – you will not regret it!" – Nadine "You can really tell Modern ŌM truly truly cares about its community and the conscious evolution of its members. Thank you!" – Alessandra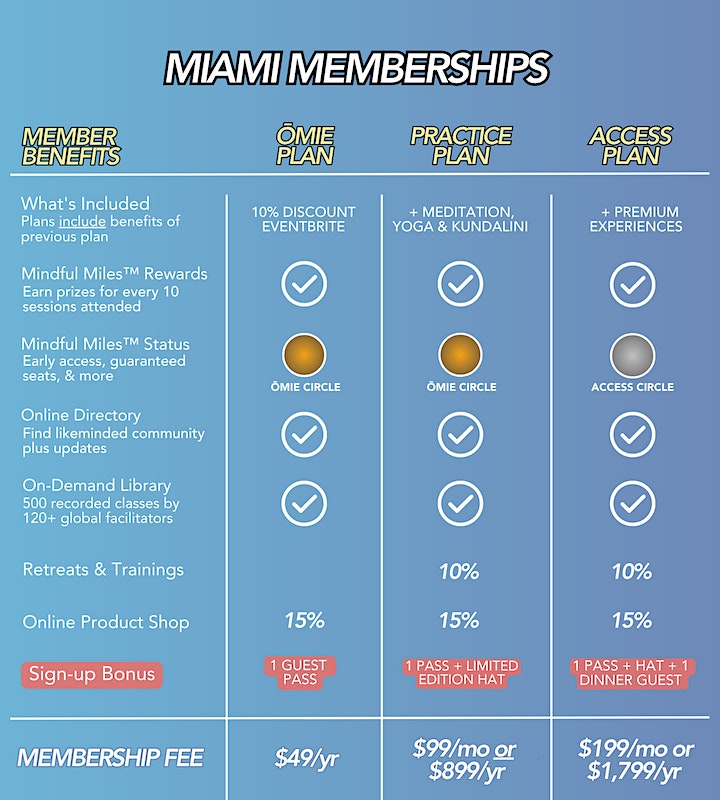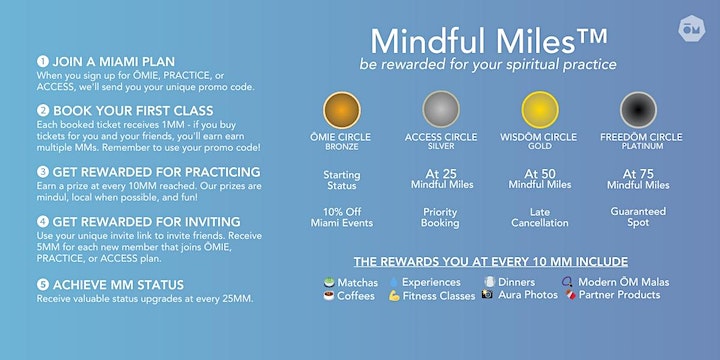 Discover more exciting and best October events in Miami