Essential Guide to Art Basel Miami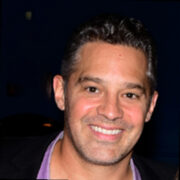 Reed Berglund
Reed Berglund is a passionate advocate for wellness and an…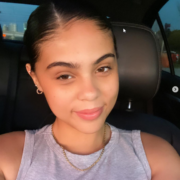 ivysolis
Ivy Solis, the Social Media and Community Associate at Breathe…
Art Basel Miami Beach marks its 21st year as a beacon of creativity, transforming Miami into an epicenter of artistic and cultural exchange. Synonymous with innovation and sophistication, Art Basel has not only established itself as North America's most significant art fair but also as a seasonal landmark for the city. This December 8-10, with exclusive previews on the 6th and 7th, the fair opens its doors to aficionados and newcomers alike, offering an immersive journey through the contemporary art world.
As the city prepares for Art Basel's unique energy, we at Breathe Miami recognize the exhilaration—and the challenges—it brings. The anticipation of discovery is often matched by the intensity of Miami's bustling streets, a testament to the fair's gravitational pull. With this in mind, we present our curated guide: a seamless blend of art appreciation and holistic wellness, to ensure your experience is as enriching as it is exhilarating.
With Breathe Miami's guide, you can navigate the bustling corridors of Art Basel, find solace in carefully selected quiet zones, and participate in wellness activities that complement the artful surroundings. Join us on this journey of discovery, where the enjoyment of art becomes a nurturing encounter for the soul.
What is Art Basel Miami?
Art Basel Miami is annual art show that is part of the part of the four pillars of the Art Basel global family – alongside Hong Kong, Basel and debuting in Paris this year. The growth of Art Basel in Miami has spilled over into the city, creating what is now known as MIami Art Week – a collection of parties, satellite fairs, and high-profile events that celebrate the arts in all their forms.
Art Basel Miami Beach is made up of six sections:
Galleries showcases pieces from the forefront of the global art scene
Meridians pushes the envelope with its large-scale, ambitious projects
Nova is dedicated to newer works, fresh from the artist's studio
Positions provides a platform for up-and-coming talents
Survey delves into historically significant artistic practices
Lastly, this year's festival includes a "Conversations" series that presents a lineup of moderated panels that foster dialogue on pressing topics within the art world.
When is Art Basel Miami Beach?
Art Basel Miami Beach takes place from December 8 to 10, 2023, with preview days on December 6 and 7.
Navigating Miami Art Week
Navigating Miami Art Week and its constellation of satellite fairs can be a daunting endeavor, especially for those dipping their toes into the water for the first time. Thankfully, a decade of navigating these waters has equipped us with a seasoned (and scarred) compass to guide you through the week.
The core focus of the week, the Miami Beach Convention Center, is where Art Basel itself unfolds. Here, the six sections we previously mentioned come to life, each a distinct universe of artistic expression.
But beyond the convention center's walls, a galaxy of satellite fairs each orbits with their unique gravitational pull:
Location: Convention Center Drive and 19th St, Miami Beach
Price(s): $35–$225.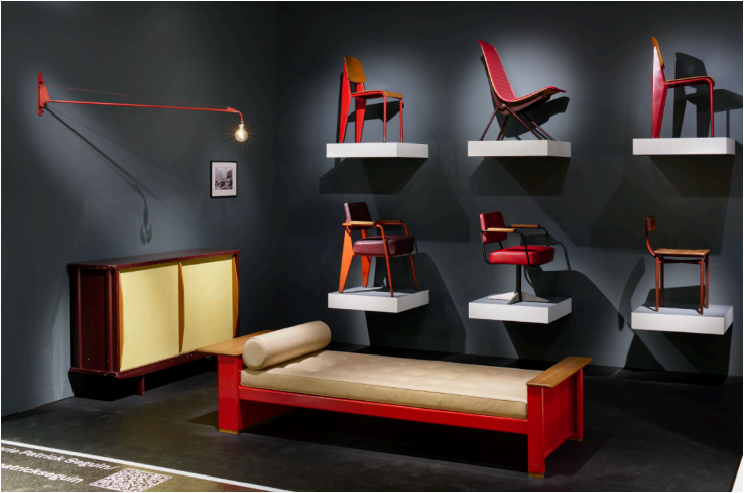 Design Miami returns with its 19th installment. Located in Pride Park, this year's theme "Where We Stand" spotlights the role design plays in observing and responding to the world around us.
Location: 700 Lincoln Road, Miami Beach
Price(s): Free; Open to the Public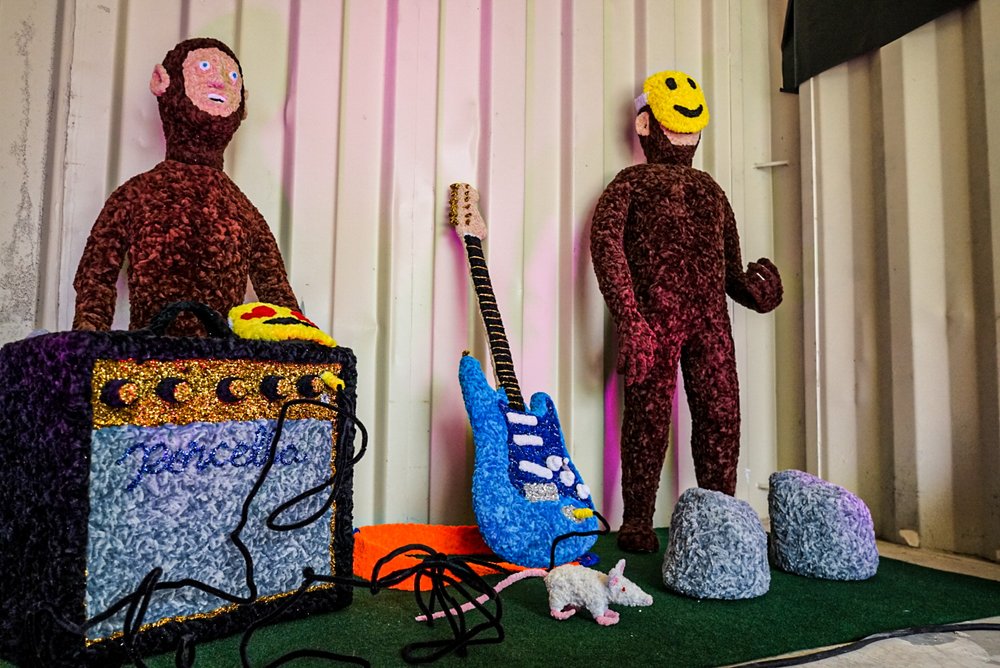 This provocative show presents present 30+ free-standing art installations taking over the mega-Halloween store on Lincoln Road.
Highlights include an audacious "meat sweats" meat installation, a grandiose fiber-made colosseum echoing Roman grandeur, and an array of virtual reality experiences.
Further stirring the senses is a bold "spanking" installation, stages with live music, thought-provoking vagina plates, and the intricate artistry of Shibari rope work.
Location: Ocean Drive and 8th St, Miami Beach
Price(s): $60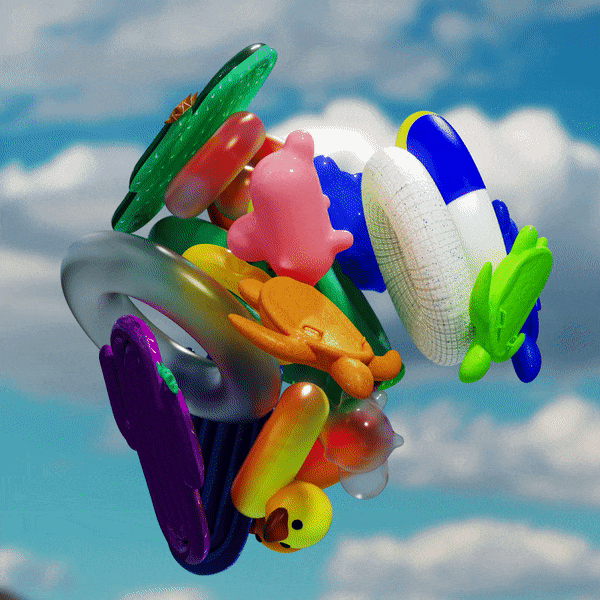 The 22nd edition, this year, the event will host over 150 international exhibitors and is expected to draw in a crowd of 60,000 visitors across six days. Last year there were repetitive themes that included astronauts, Star Wars, skulls, celebrities, and McDonald's. Lots and lots of McDonald's. But SCOPE does remain dedicated to well-being. Guests are welcomed each morning to partake in SCOPE's healing program, which includes guided meditation sessions on the beach.
The 2023 programming schedule is to be announced.
Location: Ocean Dr &, 12th St, Miami Beach, FL 33139
Price(s): Single Day $45; Multi-day $75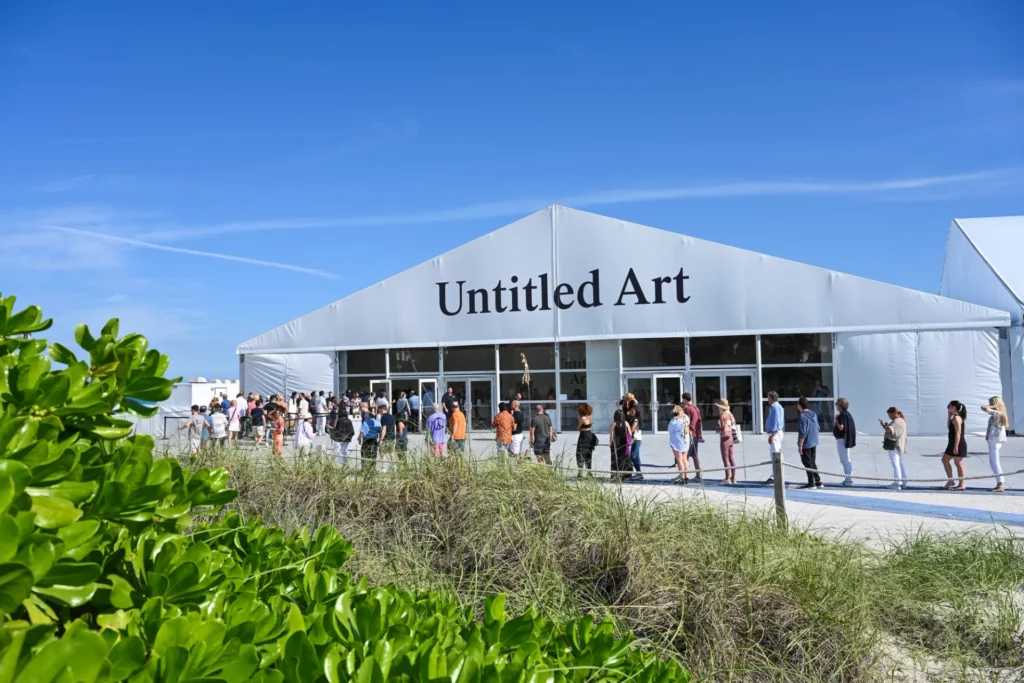 This show focuses on both emerging talent and revered figures, the fair is a dialogue between the past and the present, all under the themes of "Gender Equality in the Arts" and "Curating in the Digital Age."
Location: 3201 Collins Ave, Miami Beach, FL 33140
Price(s): Free; Open to the Public
Faena Art commemorates its 12th anniversary. This year, Faena Art presents "MAZE: Journey Through the Algorithmic Self," a monumental immersive artwork on the sand. Complementing this is "Battle of the Corporate Nations" by the critically acclaimed artist Sebastian Errazuriz. In addition, Kelly Breez brings her unique vision to the Faena Art Project Room with "Dirt's Dive," a site-specific installation that promises to immerse viewers in a narrative that is both local in texture and universal in scope.
Location: Mana Wynwood, 318 NW 23rd St, Miami, FL 33127
Price(s): Opening Night $85; General Admission $50; Student Pass $25
This is show is a dual experience in Wynwood's heart, capturing the essence of Miami's art scene in over 100,000 square feet of space. It's a marathon (you will get your daily steps in) of artistic discovery, welcoming tens of thousands to witness the creations of a thousand artists.
Location: 1400 N Miami Ave, Miami, FL 33136
Price(s): Free; Open to the Public
This show champions the underrepresented, the fresh voices that stir the art world's pot, all within the historical Ice Palace Studios. It's where new conversations begin, with over 139 galleries partaking in the discourse.
Location: One Herald Plaza, NE 14th Street & Biscayne Bay, Miami, FL 33132
Price(s): VIP $285; Multi-day $130; Single Day $30
This show is considered one of the pioneers of the city's art fairs. 160 international galleries presenting an exemplary range of modern and contemporary art for almost every level of collector. They have a VIP Preview on Tuesday, December 5th. It's location on the waterfront backdrop of One Herald Plaza in the heart of downtown Miami is picturesque.
Location: One Herald Plaza, NE 14th Street & Biscayne Bay, Miami, FL 33132
Price(s): VIP $285; Multi-day $130; Single Day $30
This separate yet seamlessly connected exhibition space is connected through a shared café area, and features an array of 75 galleries. Here, the spotlight shines brightly on both emerging talents and mid-career maestros.
With the combined force of 235 booths, the Art Miami + CONTEXT experience is unparalleled in its scale. As the largest fair we've ever navigated, it could have been an overwhelming journey, but it was the unceasing allure of artistic excellence that propelled us forward. These twin fairs are indeed a testament to the vitality of the art world and a place where the heart of creativity beats the strongest.
Location: 1530 Collins Ave, Miami Beach, FL 33139
Price(s): VIP $285; Multi-day $130; Single Day $30
Also presented by Art Miami, This show transforms a boutique hotel into a warren of intimate galleries, fostering a vibrant local spirit. Here, performance art isn't just observed—it's experienced, with past editions even inviting guests to leave with inked souvenirs.
Location: 3385 Pan American Dr, Miami, FL 33133
Price(s): VIP Opening tickets $65; General Admission $20
One of our personal favorites, this show dedicates itself to Latin American and Hispanic artistry, ensuring these voices resonate within the global dialogue. Its three sections—Main, Radar, and NEXT—offer a spectrum from the contemporary to the exploratory, including a special focus on the Amazonia Project.
Location: Courtyard Miami Coconut Grove, 2649 S Bayshore Dr, Miami, FL 33133
Price(s): Free
The Fridge Art Fair stands out as a haven of creative solace amidst the bustling energy of larger exhibitions. It 2022 theme, "Art Camp," Fridge offered an oasis of calm, inviting patrons to take a leisurely detour into its more intimate and whimsically curated spaces. This year it is celebrating its 10th "Rainbow Popsicle Edition," remains committed to showcasing the offbeat and the eclectic, with a special nod to the LGBTQ+ community. This pet-friendly affair is as refreshing as the frozen treats it's named after, a reminder that art is a space for all.
Tips for Managing Your Art Basel Miami Experience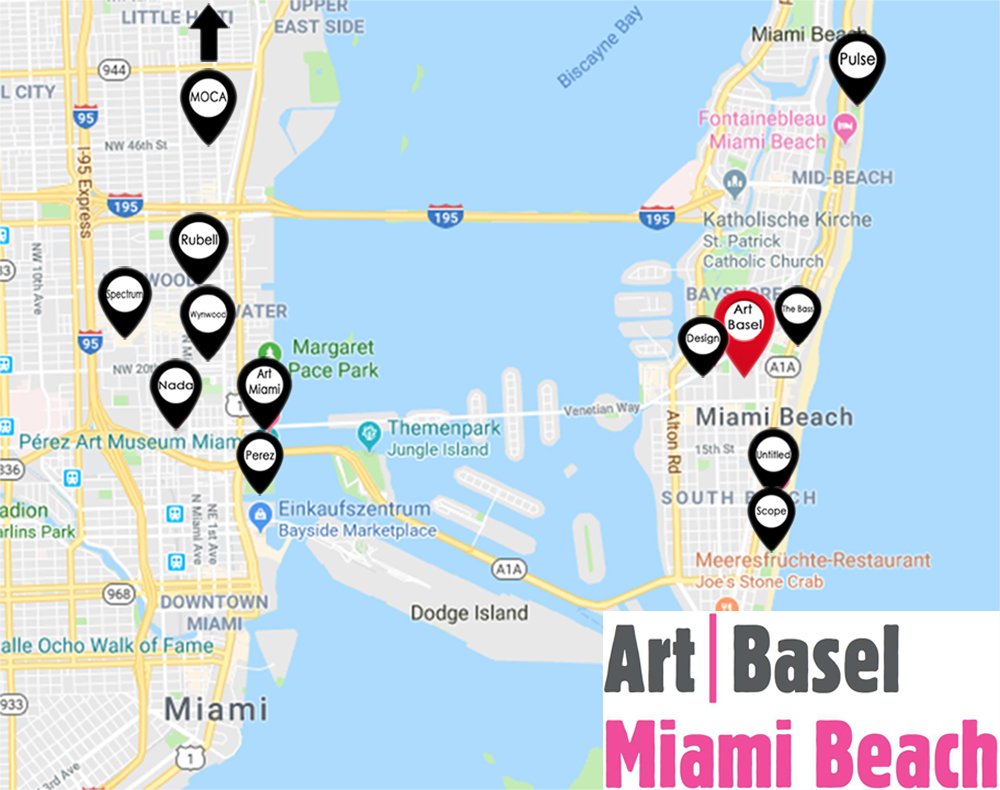 Plan Your Day Based on the Neighborhood
We understand that navigating this extensive event requires not just enthusiasm but also mindfulness in managing one's time and energy. To fully embrace the art in a meaningful way, we recommend starting each day with intention. Prioritize your must-see exhibits by neighborhood so you don't find yourself stressed trying to make it across the causeway in bumper-to-bumper traffic.
Stay Hydrated and Nourish Your Body
We know it sounds like a PSA. But you will crash midday if you don't do both – stay hydrated and nourished. We created a "Healthy Eating Guide to Art Basel by Neighborhood," tailored to keep you energized with healthy options to carry you through the day.
Take a Break, Reset and Relax
There are several options to step away from all the action and take a break. It requires a lot of energy to consume everything going on. It is OK to take a moment to yourself. We also created a "Wellness and Relaxation Guide by Neighborhood." Here, you'll find serene spaces to unwind and reflect, integrating moments of calm in the dynamic atmosphere of Art Basel Miami!
From Alto to City Bike, A Savvy Approach to Transportation
Navigating the effervescent energy of Art Basel Miami requires a savvy approach to transportation. At Breathe Media, we've spent ten years mastering the art of moving through Miami with ease and a dash of fun. Here are our seasoned tips for bypassing the gridlock and turning transit into part of the adventure.
Downtown to Coconut Grove:
Embrace the efficiency of the Metrorail, Miami's elevated rapid transit system that spans 25 miles. Operating from the early hours of dawn until midnight, every day of the week, it's your express lane avoiding the snarl of I-95 and US 1. For a swift and scenic journey from downtown to the lush landscapes of Coconut Grove, the Metrorail is unmatched.
Downtown and Brickell
For exploring Downtown Miami or Brickell, the Metromover is your complimentary chariot. This convenient service loops around the area and arrives every three to five minutes. It runs from the crack of dawn till the stroke of midnight, seven days a week, and it's entirely free. No tickets, no hassle—just step aboard and enjoy the ride.
Downtown to Wynwood
While rideshares like ALTO offer a smoother experience, they can still get caught in the inevitable traffic. If you're up for a bit of exercise, grab a CITY BIKE. With Miami's usually temperate weather, you can enjoy a breezy ride without breaking a sweat. You'll find docking stations scattered throughout downtown and Wynwood, making pickups and drop-offs a breeze. Just stay alert and navigate carefully around Miami's bustling streets.
Miami Beach Convention Center to South Point
Once again, CITY BIKE comes to the rescue. It's a delightful way to traverse the distance from the convention center to the Aqua Art Miami. Docking stations are plentiful, and cycling lets you bypass the traffic while soaking in the coastal views.

Conclusion
Remember, it's perfectly fine to embrace selectivity. Like traveling to a new country, choose areas of the fair that resonate most deeply with you and explore them thoroughly. This focused approach allows for a deeper connection with the art and a more personalized experience.
Navigating the city's logistics during this bustling time can indeed be overwhelming. We understand that the traffic may exceed your wildest expectations, testing patience and resolve. But let this be part of the narrative, a small hurdle in the grand journey of cultural enrichment that awaits.
As you chart your course through Art Basel, we at Breathe Media invite you to pause, breathe, and be fully present. This is not just an art fair; it's a cultural landmark event that reflects the vibrant pulse of the global art community right here in Miami. Embrace the energy, indulge in the creativity, and let the experience enrich your understanding and appreciation of contemporary art.
With your game plan in hand and an open heart, join us in celebrating the transformative power of art at Art Basel Miami Beach. Here's to the stories you'll gather and the memories you'll create!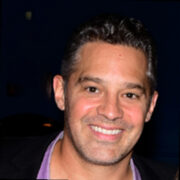 Reed Berglund
Reed Berglund is a passionate advocate for wellness and an embodiment of the active lifestyle. As a former college athlete who played basketball for the UNLV Running Rebels, he's lived a life deeply immersed in body movement and sports. Reed's enthusiasm for staying active extends far beyond the basketball court. He's an avid surfer, wakeboarder, skier, basketball and tennis enthusiast, and an emerging padel player. His love for holistic well-being also includes a dedication to cold plunges and contrast therapy, embracing these practices to optimize recovery and vitality. In his role as the founder of Breathe, Reed brings his extensive experience in wellness and his unwavering commitment to helping individuals discover their path to a healthier, more mindful life. His personal journey and multifaceted fitness background inspire his vision for Breathe as a platform that empowers urban dwellers to explore, experience, and embrace well-being in all its forms. Reed's current focus lies in the realm of flexibility, a key component in his fitness journey to extend the longevity of his active lifestyle. Through Breathe, he aims to share his passion, knowledge, and insights with a vibrant community of wellness enthusiasts, experts, and storytellers, collectively working toward a healthier and happier world.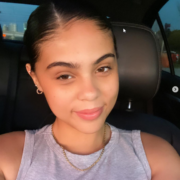 ivysolis
Ivy Solis, the Social Media and Community Associate at Breathe Miami, is a Miamian who's deeply rooted in the city's vibrant culture. Growing up in the Magic City, she was always on the move, playing soccer on the sandy beaches and exploring every hidden corner. Beyond her professional dedication, Ivy is an artist at heart, with a passion for pottery and ceramics that allows her to express her creativity. Ivy's commitment to promoting health and wellness shines through as she searches for and vets new experiences to share with the Breathe Miami community.